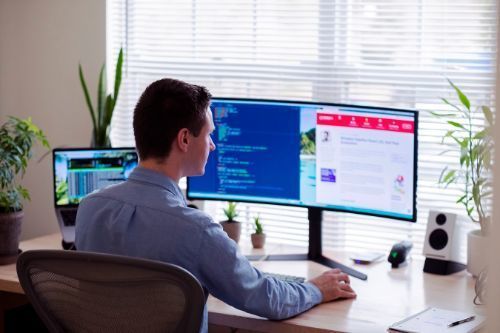 You never know where a personal connection can lead. It's the entire premise behind the popular social networking site LinkedIn. The more connections you make, the more likely you'll be to find opportunities for yourself and for your business. But in a virtual world, things aren't as easy as they once were. Luckily, there are still ways to meet new people so you can continue to build your network. Check out these five tips to gather more meaningful contacts digitally. 
1. Join Virtual Events
It's nearly impossible to meet new people in quarantine. At least, it's impossible to meet new people in-person. Virtual events are still happening with the opportunity to network and build connections for yourself and your business. Find events that are related to your line of work or personal interests. These events could be something as formal as a webinar or online conference, or more laid back like joining a business's Facebook Live stream. Whatever you choose, make sure you're interested in the content and meeting new people will follow. 
2. Actively Listen
Just because you're virtual doesn't mean you should sit quietly throughout the event. If possible, consider questions to ask the speaker or person introducing themself. Follow up with comments or suggestions that show you were genuinely interested and attentive throughout the conversation. By actively listening, you show that you were engaged which will go a long way with your new connections.
 
3. Put Away Distractions
Understandably, there are added distractions while working from home. Yet it's painfully evident when somebody is responding to emails or texts instead of paying attention to what's happening in a virtual meeting. During the event, make yourself as present as possible by closing all of your tabs, putting away your phone and living in the virtual moment.
 
4. Respond with Visual Cues
Your microphone may be muted, but that doesn't mean you can't show your attentiveness. If you have the option to turn your camera on or off, consider turning the camera on. There's something more personal about being able to literally put a face with a name. Then, make sure to nod and smile when appropriate just like you would in a face-to-face conversation. 
5. Share About Yourself
Consider virtual touchpoints to be the business card of the digital world. While these "business cards" might not win your office a free lunch drawn from a fishbowl, there's a much higher chance your contact will follow up with you because your message will be at their fingertips. If you have the opportunity, provide your new networking friends with your email address or LinkedIn profile so that you can stay in touch. When your message shows up in their inbox, they'll be much more likely to respond than if your physical business card is stashed away in a pile somewhere. 
In this digital world, remember that you can make connections from, well, virtually anywhere! Expand your reach and discover the new opportunities and endless possibilities that come your way. Simply find an event, pay attention, show you care and make sure to follow up. After all, you never know who could virtually waltz right into your life.